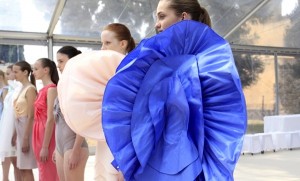 Adoro gli abiti della stilista
Maryam Kordbacheh
. Tecnica e forma al servizo della moda che diventa concettuale. Lo spazio e il tempo dentro origami di fiori. I colori dei tessuti sono naturali. Questa è la collezione
The Sexuality of Flowers.

Per sentirsi qualche volta un petalo. E non sempre una ginestra. Tenace certo, come la descriveva Leopardi, ma sempre in lotta per non piegare il capo alla desolazione.
"The allure of a design resides in its purity. I mold and discover my own patterns. Experimentation, problem solving and searching for a personal way to realize my designs are most important to me. My collection, rather than being clothes, is a kind of intimate sculptures" (Maryam Kordbacheh).