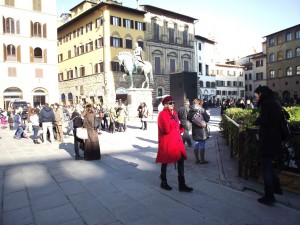 Era la mia passione e l'ho trovata: la

Dior Double Saddle Bag

. Scomodissima, dentro ci sta giusto il telefono e un piccolo portafogli (impensabile aggiungerci un libro o un'agenda), ma è un legame di amorosi sensi.
Muove in me attitudini da touchscreen
e quando l'appoggio sulle gambe, seduta al tavolino di un caffè, percepisco il significato sensoriale della parola trasgressione.
E' borghese, francese, vintage, affatto scontata.
E' Catherine Deneuve in Belle de Jour, è come scrivere al Café Flore di pomeriggio, come sorseggiare un Cassis a Dijon alle otto di sera.
A Firenze si è disorientata un po', ma ha ritrovato la sua natura quando ho varcato la soglia del St Regis.
I have a new obsession: Dior Double Saddle Bag. So small it can barely fit a phone and a tiny wallet, but it was love at the first sight!
Is pure transgression: French, vintage, bourgeois, one of a kind!
It's Catherine Deneuve in "Belle de Jour", is like a lazy afternoon spent writing at Cafe' Flore, better than sipping Cassis in Dijon.
Florence was too busy for my little beauty, but the St Regis Hotel is the perfect habitat!