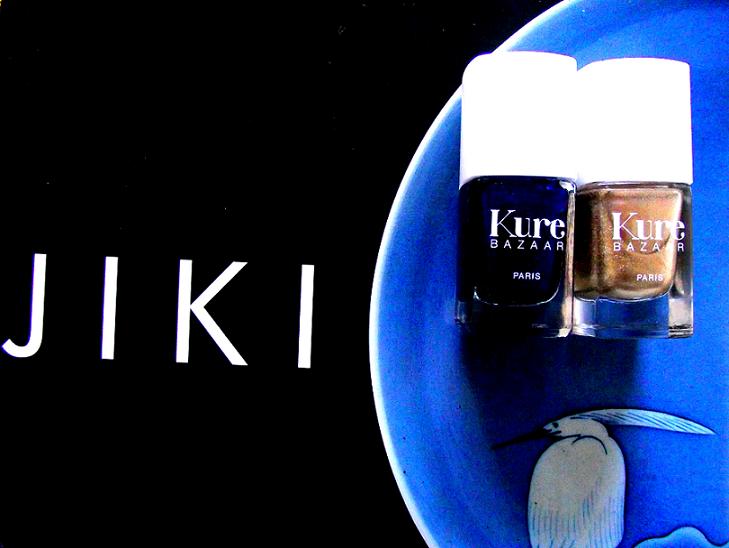 Quando mi hanno chiesto di provare questi smalti Kure Bazaar ho accettato volentieri. L'idea di spalmarmi sulle unghie prodotti naturali a base di
polpa di legno, cotone, mais, patate e grano mi incuriosiva parecchio. Il più era capire se questa formula ecologica, senza toluene o
synthetic camphor né formaldeide o
dibutyl phthalate,
rispecchiasse in effetti il mio desiderio di tenuta e brillantezza.
Ebbene vi devo dire che sono fantastici, si asciugano in fretta e durano a lungo. L'idea di realizzare questi smalti di origine naturale
, prodotti a Chartres vicino a Parigi,
è venuta ad una top model,
Kartika Luyet, la quale si è avvalsa del supporto professionale di
Christian David, nail artist del brand, per trovare la formula giusta.
Io ho scelto due colori, l'oro e il blu. Quest'ultimo, in particolare è il mio colore preferito. Quello delle porcellane giapponesi per intenderci. E infatti le due boccettine sono proprio appoggiate sopra un catalogo Electa dal titolo Jiki, nome di una bellissima esposizione che si tenne a Faenza nel 2004. Ho una passione per la porcellana IMARI, prodotta nelle fornaci di
Arita a partire dal 1610. A
mo i soggetti decorati, per lo più legati alla natura, che richiamano i motivi tipici delle ceramiche cinesi Ming alle quali in realtà si ispirano. Ma soprattutto mi perdo nei colori e dentro quelle splendide pennellate sottili e decise di blu cobalto sottovetrina. P
er poi scoppiare in un tripudio di rossi, porpora e verde smeraldo.
When I was asked to test these Kure Bazaar nail polishes I gladly accepted. The idea of ​​using on my nails natural products made ​​from wood pulp, cotton, corn, potatoes and wheat intrigued me a lot. The problem was establish whether this environment friendly formula , without toluene or synthetic camphor, formaldehyde or dibutyl phthalate, would keep the promise of a shining and lasting effect.
Well I must say that they are great, dry quickly and last forever. The idea of ​​creating these nail polish range from natural sources, produced in Chartres near Paris, came to a supermodel, Kartika Luyet, who worked with Christian David, nail artist of the brand, to find the right formula .
I have picked two colors, gold and blue. The latter in particular is my favorite color. The color of Japanese porcelain. In fact, the two little bottles are resting on top of a exhibition book called Jiki, the name of a beautiful exhibition held in Faenza in 2004. I have a passion for IMARI porcelains, made in Arita since 1610. I love the decorations that remind me of the Ming Chinese ceramics. But most of all I get lost in those beautiful colors and thin cobalt brush strokes. The colors then virate on beautiful red, purple and emerald green.