Raffinati persino nei cadeaux da Bulgari, dove le miroir con custodia in pelle e iniziali impresse sul momento hanno davvero il sapore antico del privilegio. Ed è solo l'inizio di un percorso che presto giunge a destinazione dentro il luxury Bulgari Hotel dove si manifesta, pari a un'epifania, la nuova collezione accessori donna del prossimo autunno inverno. Borse meravigliose dalle diverse fogge e colori sono state presentate sabato durante la MFW.
La mia preferita resta sempre la Isabella Rossellini con chiusure realizzate in preziose pietre dure: ametista, lapislazzuli, quarzo, malachite. Debuttano le Lipstick Daily Clutches con chiusure gioiello che sembrano rossetti, giusto per ricordare il gesto seduttivo delle donne che aprono le borsette per rifarsi il make-up. Stupende anche la clutch con manico a braccialetto. Ma la vera essenza del marchio Bulgari la si ritrova nell'Aida Bag, oro rosa brillanti e cristalli bianchi. Per una sera decisamente speciale.
Even gifts are exquisite at Bulgari, the hand printed cadeaux with your initial has the flavor of an ancient privilege.
This is only the beginning of a journey that leads to its destination in the lobby of the luxury Bulgari Hotel where it manifests itself in an epiphany of the new autumn and winter collection of accessories for women.
Bags from the wonderful variety of styles and colors were presented Saturday during the MFW and the evening party.
My favorite is always the Isabella Rossellini one made of precious stones: amethyst lapis lazuli, quartz, malachite.
The new Lipstick Daily Clutches debuted as well, with precious closures that look like lipsticks and remind me of the seductive gesture women do when opening their purses to retouch their make up.
I loved the clutches with handle bracelets, but the best piece was the Aida Bag, pink gold and white crystals for a very special evening.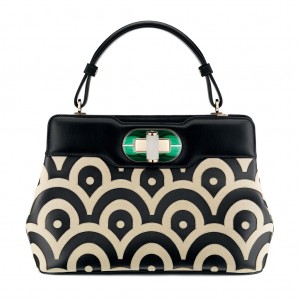 .