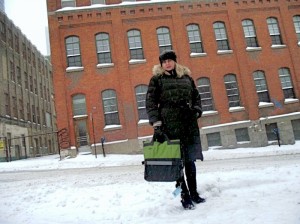 In queste giornate di moda a Montr

é

al ho avuto il supporto tecnico di una bellissima borsa MH WAY della linea Urban. Dentro ho messo proprio di tutto, come potete immaginare:

i

Pad, cartelle stampa, matite, moleskine, macchina fotografica, bottigliette di Evian, registratore. E' una cartella molto capiente in effetti, perciò è perfetta per andare agli incontri di lavoro e,

nonostante la neve mi abbia colto diverse volte per strada, ha protetto tutte le cose riposte al suo interno. Mi sono piaciut

i

il colore e i dettagli tecnici, come le fasce catarifrangenti e i nastri elastici per compattare lo spazio. E' comoda e versatile, un vero aiuto quando ti devi muovere per strada tutto il giorno. Perfetta durante il viaggio, in aereo occupava pochissimo spazio nonostante fosse piena di libri

.
MH Way è azienda leader nella progettazione, realizzazione e distribuzione di cartelle,

valigeria, borse e accessori fortemente innovativ

i

.
L'anima creativa del brand,

sul mercato dal 1982,

è il designer giapponese Makio Hasuike.
Thanks MH WAY
During the fashion week days in Montreal I had the great company of this beautiful MH WAY urban line bag, it holds all my world: Ipad, press folders, pencils, moleskine and my camera. It's so 'roomy and perfect for going to meeting and face the heavy shows!

MH Way is a world known brand in designing bags and accessories with a focus on design and innovation.

The creative genius behind the design is Makio Hasuike, which combined design skills and business ideas.