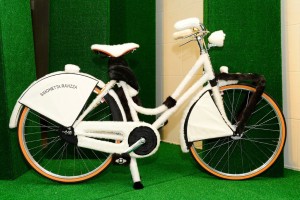 Un'ora di fila prima di entrare ad uno dei più importanti eventi italiani: sto parlando del Salone del Mobile, che ha aperto oggi i battenti al quartiere fieristico di Rho, presenti oltre 200 espositori e 700 designer. Tantissimi gli appuntamenti e gli eventi Fuorisalone, in zona Tortora, Brera, Lambrate, e nel Quadrilatero della Moda. Io ho già preparato la mia agenda, fittissima. E voi?
Un evento molto interessante, in apertura incontri, è la presentazione di
"The Bike" di
Simonetta Ravizza, un design-project di bicicletta pensata e progettata con dettagli e materiali che caratterizzano il brand della Maison. Si tratta di un esemplare unico realizzato in
pelle, cuoio, persiano, xiangao e visone. Il tutto mixato a un
total black & white raffinato e non replicabile. Alla base di questo prototipo ci sono oltre 200 ore di lavoro artigianale, il risultato come vedete è il luxury alla potenza: sellino in visone bianco come i fanalini in testa e in coda, il manubrio, la borraccia, il bauletto anteriore con profilo in contrasto nero. I paraschizzi sono in pelle bianca con ricamo logo Simonetta Ravizza in contrasto. La bicicletta è esposta fino al 14 Aprile nelle vetrine del flagship store Simonetta Ravizza, in Via Montenapoleone. Al termine della settimana Milano Moda Design questo prezioso oggetto sarà venduto e l'intero ricavato verrà devoluto in beneficenza alla Fondazione onlus Together To Go attiva nella riabilitazione di bambini colpiti da patologie neurologiche.
Ma gli appuntamenti sono davvero tanti, pensate oltre 100 mostre fotografiche allestite e tutti i musei civici ad ingresso gratuito. Avrò di che camminare fra l'esposizione di Van Cleef & Arpels in via Verri, la mostra per il centenario della nascita di Piero Fornasetti, i Design Talks da Louis Vuitton, il temporary store di Zalando e tante altre cose ancora. Insomma c'è tanto da scoprire. Io farò una piccola tappa al mare per lavoro:). Poi ritorno.
One of the biggest Italian event, the Salone del Mobile, is about to start in Rho, with more than 200 expositors and 700 designers. There are also countless happenings at the Fuorisalone, in the neighbourhood of Tortona, Brera, Lambrate and the Quadrilatero, where all the major fashion boutiques are located.
I already have a full schedule, what about you? A very interesting opening event is the presentation of 'The Bike' by simonetta Ravizza, a design project of total black and white. At the bottom of the project tehre are more than 200 hours of work and the result is a super luxurious city bike uber refined and polished, complete with fur details. The prototype of the bike will be on display from the 8th to the 14th of April in the Ravizza flagship store in via Montenapoleone 1 in Milan. At the end of the week the cost of the bike will go to the bnefit foundation Together To Go that works to help sick children. And there is more to see like the exhibit by Van Cleef and Arpels in Via Verri, the exibition on Piero Fornasetti, the Design Talks at Luis Vuitton and the temporary store at Zalando and much more! There is plenty to see with a small detour at the beach