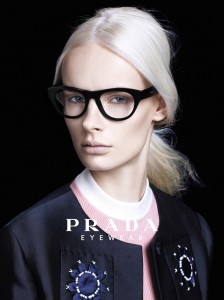 Buongiorno ragazze, ve la ricordate l'acidissima Miranda Priestley de Il diavolo veste Prada? Un film ben fatto, un libro ben scritto. Ve ne parlo perché è di poche ore la notizia che Prada, il colosso della moda, apre le porte alla scrittura. Lo ha fatto annunciando, nientemeno, che un concorso letterario in collaborazione con Giangiacomo Feltrinelli editore. Sì, avete capito bene. Potete armarvi di carta e penna e provare a raccontare una storia sotto l'imbeccata del tema
"Sguardi sul mondo. Immagini, segni, idee". E' da qualche anno che vi parlo dell'importanza di legare la moda a suggestioni più ampie, a contaminare i tessuti con le emozioni, i colori alle storie. Tre anni fa il primo Writewear, il concorso di letteratura e moda di pfgstyle, cui sono seguite altre cinque edizioni, con partner Silvian Heach, Giorgia & Johns, Momaboma, Dressart e le capsule collections con Wedding Angels e Tense. Questa grande iniziativa di Prada mi conferma che avevo ragione.
Prada.com/journal
Goodmorning ladies! Do you remember the evil Miranda Pristley of the Devil wears Prada. Avery fun cool movie. So it comes out that Prata itself will open its doors to writers thanks to a collaboration with the publishing house Feltrinelli. Yes you got it right, you are invited to take part to the contest: 'What are the reality our eyes see? And how is this reality through the lenses?'. It has been some year since I have started talking about the importance of the contamination between literature and fashion with the writing contest Writewear, now at its fifh edition. So Prada finally proved me right! . The contest opens today, April 18, and it will close on June 18.