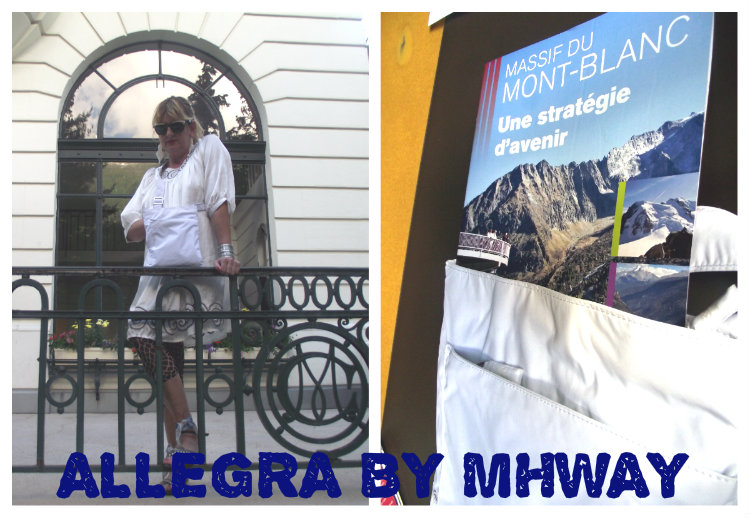 Buon pomeriggio ragazze! Il tour organizzato da SuperAlp, con una dozzina di giornalisti provenienti da tutto il mondo, prosegue. Qui sono a Chamonix all'Hotel Le Majestic. I panorami sono magnifici e gli spostamenti continui. Si parte all'alba e ogni sera si dorme in un hotel diverso, sono felice e mi sveglio di fronte a scenari mozzafiato. Durante il viaggio mi sono munita di questo comodo gioiellino: la tracolla piatta della

linea Allegra

di MH WAY, perfetta per gli spostamenti veloci e, nel mio caso, per tutte le conferenze stampa alle quali ho assistito. Due tasche esterne e una interna permettono di contentere documenti importanti come i titoli di viaggio, un taccuino per scrivere, il portafoglio, i biglietti da visita, le penne, la guida e i documenti personali, il cellulare, il mini registratore. In fibra poliestere, la linea Allegra è perfetta per il viaggiatore, io l'ho scelta bianca così si adatta ad ogni vestito, ma anche quella rosa è deliziosa. Che ne dite?
Hello

guys

I'm

in Chamonix

with my

favorite bag

: Allegra by MH WAY. Product design developed around the individual is the key-point when it comes of the "Allegra" line. Weightless and versatile, these items are bags to wear and not just carry, products in which the case concept is mixed with the body and movement one. They are functional to a dynamic lifestyle meeting women and men's needs.The nylon-made "Allegra" bags and accessories have become part of our day-to-day lifeas an easy solution that gives a great sense of safety and freedom.