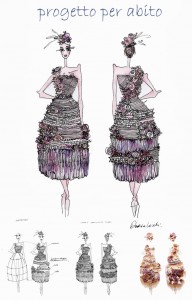 Buongiorno ragazze! Due righe per mostrarvi il bozzetto realizzato da

Daria Locchi

, la giovane diciannovenne che ha partecipato al bando per la borsa di studio Anna Monesi dell'Istituto #Modartech di Pontedera. E, naturalmente, lo ha vinto. Un premio dunque alla creatività ma anche l'eleganza, un abito meraviglioso che a tutte noi è piaciuto moltissimo, la versione in basso a destra è in tessuto interamente in ricoperto da petali di rose. Complimenti dunque a Daria e calici alzati per tutti i sogni che si materializzano. Improvvisamente in un giorno qualunque destinato a diventare eterno.
Hello girls! I want to show the sketch made ​​by Daria Locchi, the young nineteen year old who participated in the competition for the scholarship Anna Monesi, organized by the Institute # Modartech of Pontedera. And he won. An award therefore creativity but also elegance, a wonderful dress that all loved it, the version on the bottom right fabric is entirely covered with rose petals.