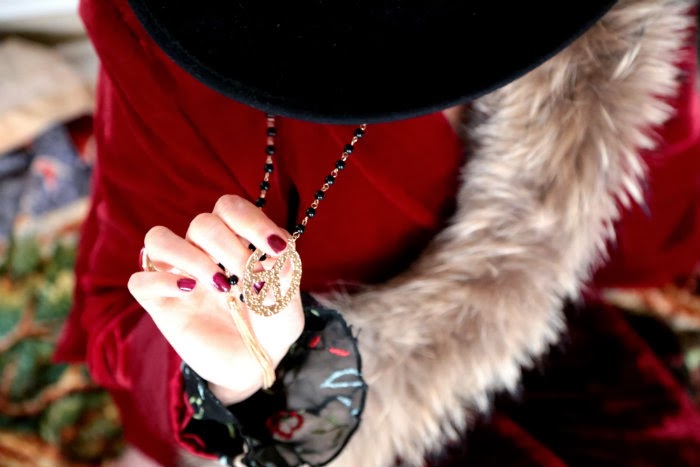 RED PASSION
Pfgstyle wears jacket Max Mara Group trousers Anna Bess shirt Malena hat poil de lapin Da-Me ring Giulia Boccafogli
Photo by Natalie Novarese
La mia passione dannunziana qui si esprime al meglio. Immersa fra broccati, velluti, cappelli sartoriali e piedi nudi. Il profumo più adatto, in questo caso, è quello delle viole il fiore preferito da Eleonora Duse. Ma se l'anima è Il FUOCO il mood di questi giorni è il rock dei Rolling Stones anni '60. Il dualismo sta nella complicità e nella benevolenza che ci concediamo.
Nelle foto di questo servizio vi mostro un libro: sono le poesie di Diane Di Prima, poetessa della beat generation, alla quale presto dedicherò un servizio.
Avete voglia di voluttà? Vestitevi di velluto, magnifica la combinazione robe de chamber portata in passerella da Dsquared. Ma non dimenticate la musica di Coltrane.
Se vi piace l'odore delle violette provate Violetta di Penhaligon's un profumo ideato nel 1976. Sulle altre fragranze dell'azienda inglese e sull'apertura del negozio monomarca a Milano ne ho parlato QUI
Vi intrigano i rimandi dannunziani? E allora cominciate a leggere Il Fuoco, un romanzo ambientato a Venezia
, nell'autunno del 1882. In pratica la storia d'amore tra Gabriele D'Annunzio ed Eleonora Duse

.

I finally found an environment where my passion for D'Annunzio could fully express itself. I dived myself barefoot into brocade and velvet fabrics and little sartorial head pieces. In this case the perfect perfume was violets once, Eleonora Duse's favorite. And if you got THE FIRE inside of you, listen to the Sixties rock of Rolling Stones. The book I chose for the shooting is a collection of Diane Di Prima poems. She was a beat generation poetess and as soon as I could I will dedicate a post to her.
So if you are looking for sensual pleasure wear a velvet dress and play Coltraine all day long
.