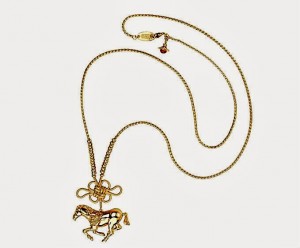 BENVENUTO ANNO DEL CAVALLO
"Corri cavallo, corri ti prego … non ti fermare, vola come il vento che mi salverò"
(Roberto Vecchioni, Samarcanda)
La notte del 31 gennaio la Cina darà il benvenuto all'anno del Cavallo, il settimo segno dello zodiaco cinese simbolo della velocità e dell'abilità. Dunque correte ragazzi, veloci come il vento. Forti come la natura. Correte verso i grandi obiettivi, verso il futuro. Volate sui vostri cavalli, come cantava Vecchioni, senza guardarvi indietro. Ci salveremo dalle contraddizioni, o certo che ci salveremo. E dalla cattiva sorte, se salteremo gli ostacoli, se impareremo a farlo.
I festeggiamenti del capodanno cinese ci saranno anche in Italia, bellissimi quelli di Roma e Prato. Per l'occasione
Vivienne Westwood
ha realizzato una
collana con il simmetrico nodo Cinese e un orb rosso a capo della chiusura.
Il ciondolo dorato, raffigurante un cavallo, riflette appunto l'icona astrologica Cinese dell'anno che sta per iniziare e rappresenta la buona sorte e la fortuna.
Lo trovate presso le boutique 44 Conduit Street, 18 Conduit Street, Worlds End in Gran Bretagna e nei negozi internazionali a partire da oggi.

On the 31st of January China will welcome the Year of the Horse which is the seventh zodiac sign and the symbol of velocity and ability. So hurry up girls, fast as the wind. Strong as Mother Nature. Go run towards bigger aims, towards the future. As Italian singer and songwriter Roberto Vecchioni once said run on your horses without turning back. We will be safe from contradictions and from bad luck if we learn how to leap over hedges.
Celebrations for Chinese New Year's Even are going to take place also in Italy. And Vivienne Westwood made a necklace with the symmetrical Chinese knot and a red orb just for the occasion. Its golden pendant portrays a horse, reflecting the zodiac sign and also symbolizing goo luck. You can find it in her boutiques worldwide from today on.