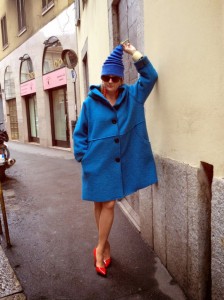 I'm about to leave for Paris and I want to say goodbye to you with some pictures of the shoes I wore during Milan Fashion Week. They're all
Viola Vinca's,
a relevant brand on the international market that symbolizes quality and elegance of Italy.
They are made in refined leather and constructed in a particular way which allows you to wear hills and not to get tired. The perfect match for the Fashion Week.
Here
you can find the history of the brand, and down below other pictures.
In prossimità di partire per Parigi vi lascio a qualche scatto sulle scarpe indossate durante la fashionweek di Milano. Sono tutte di
Viola Vinca
, un marchio importante sul mercato internazionale che rappresenta la qualità e l'eleganza del made in Italy.
Sono realizzate con pellami pregiati e lavorate all'interno con una particolare lavorazione che ti consente di indossare i tacchi alti senza sentire la fatica. E in questo periodo, vi assicuro, è stato come volare.
Ancora un altro outfit con le scarpe di Viola Vinca e la storia del brand la trovate QUI