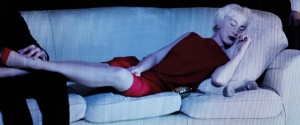 "
Come un disegno in nero grafite, semplice ed efficace, Celeste Isotta di laviniaturra, prende vita dalla matita toccata dall'intuizione poetica che determina il fare"
Le strade di Lavinia Turra di volta in volta non sono mai a senso unico. Piuttosto, collezione dopo l'altra, le vedo incrociarsi, sormontare paesaggi, diventare bucoliche, allargarsi a dismisura come quelle californiane e poi restringersi, sotto tunnel misteriosi.
La sua ultima concettuale capsule collection, Celeste Isotta dal titolo di una poesia di Gabriele Via, propone per questo inverno silhouette geometriche e cromatismi di bianco e nero, interrotti talvolta da interventi di rosso. In questi suoi abiti c'è una storia tutta da raccontare.
E io me ne sono innamorata. Ieri, nel suo atelier, è nato un bel progetto. Un diverso registro per interpretare la moda, animando un parterre letterario.
The streets of Lavinia Turra are never one way. Collection after the other, I see them overlap, cross landscapes, become bucolic , widen dramatically as the California's view and then shrink under mysterious tunnels.
Her latest conceptual capsule collection, named poetically Celeste Isotta offers for this winter geometric silhouettes and black and white, sometimes interrupted by bright red. In her clothes there always is a story to be told.
And I fell in love. Yesterday, in her studio, we planned a beautiful project. A different interpretation of fashion.