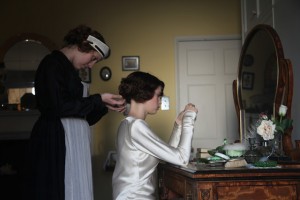 $Ogni volta che la gente è d'accordo con me provo la sensazione d'aver torto$
Sono sempre più ostinata a cercare una certa eleganza nella vita. Ragionavo ieri e oggi sul bisogno che ho di una bellezza autentica. D'Annunziana, per intenderci. Propriamente estetica. Non rarefatta, dunque sincera.
Il gusto per la cena placé, per la conversazione, per la tavola apparecchiata. Per i profumi che stanno scomparendo, per un sano bucato di Marsiglia, per una persona che passeggia con te, per un cappello di piume. Sarà la risposta alla violenza, all'ignoranza, all'indifferenza. Forse…
… sta tutto lì. In una piccola voglia di felicità.
Le rivoluzioni sono anche interiori.
I am more and more determined in looking for elegance in life. I was reflecting yesterday and today about the I have of authentic beauty. Like the one describe by D'Annunzio, for instance. Properly aesthetic. Unspoiled and sincere.
The taste for a seated dinner, for conversation. For perfumes that are disappearing, for a healthy smell of Marseille soap, for a person who walks with you, for a hat with feathers. Will be the answer to violence, ignorance, indifference. Maybe …
… it's all there. In a small desire for happiness.
Revolutions are from within.