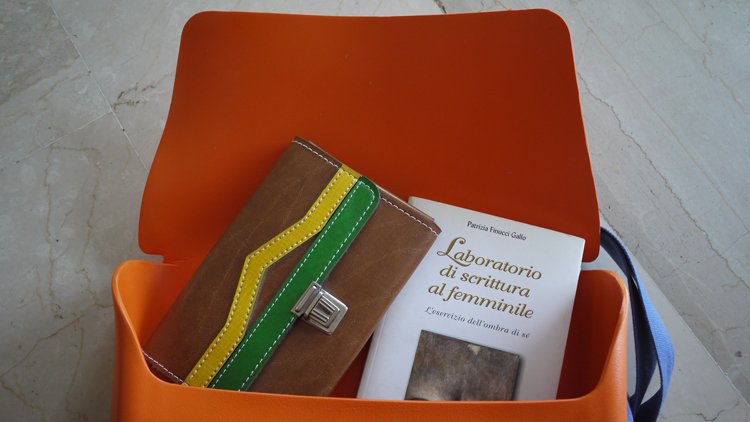 Buongiorno ragazze, oggi vi voglio parlare della fantastica borsa monovolume Mix Match del designer giapponese Makio Hasuike per MH Way, che mi ha accompagnato durante il mio viaggio a Bellagio.

Mix Match nasce da un'ideale di purezza estetica e gestualità immediata, non ci sono cuciture, rivettature, fissaggi permanenti. Tutto è montabile e smontabile in modo semplice.
L'ho

indossato a zainetto per metterci dentro il computer e i miei libri, come vedete nelle foto, ma quando ne ho avuto bisogno l'ho trasformato con un semplice gesto in una altrettanto comoda borsa a tracolla.
"Ho voluto realizzare una forma semplice quasi una sintesi della storia della cartella, partendo da quella utilizzata per la scuola – racconta Makio Hasuike – è una strada nuova e anticipatrice per l'uso di un materiale come questo e per il processo produttivo ad esso connesso.

Un progetto ci dà la sensazione di essere tornati a casa dopo tanti giri"
Ho scelto la

Mix Match color arancione, ma ognuna di voi

può crearsi il "mix match" preferito abbinando il colore della scocca (eco-friendly e rigorosamente made in Italy)

al colore della tracolla e delle bande elastiche.
Mix Match è inoltre resistente agli agenti chimici e alle temperature (-25°/+55°), non scolorisce nel tempo ed ha, tra i mate­riali affini, una resistenza all'usura elevata e superiore, il materiale di cui è fatta è completamente privo di solventi dannosi alla salute e di metalli pesanti.
Ho avuto un po' la sensazione di tornare sui banchi di scuola ed è piacevole. Fra qualche ora parto per Milano alla prima del Grande Gatsby e durante il viaggio sarà contenitore di agende, libri e quaderni.
Good morning ladies, today I want to speak about the great Mix Match bag by the Japanese designer Makio Hasuike for MH Way, which accompanied me during my stay in Bellagio.
Mix Match comes from the idea of a simple beauty and the ease in using a beautiful object which can be completely be built and unbilt in the easiest way. I wore it as a rucksack to carry the tablet, books and all sort of things but then transformed it in a big carryall.
'I wanted to make a simple shape almost a synthesis of the carryall, from the one used at school. Is a completely new way and this project make me feel like we got back home from a long travel' said the designer Makio Hasuike.


I've picked the orange one, but everyone can build her own combining all the possible solutions. The bag is super resistant to everything from weather condition to chemical agents, is super durable and earth friendly. Feeling like you are going back to school is a nice sensation. In a few I will head to Milan for the first screening of the Great Gatsby and the bag will come with me carrying notes, books and everything else.