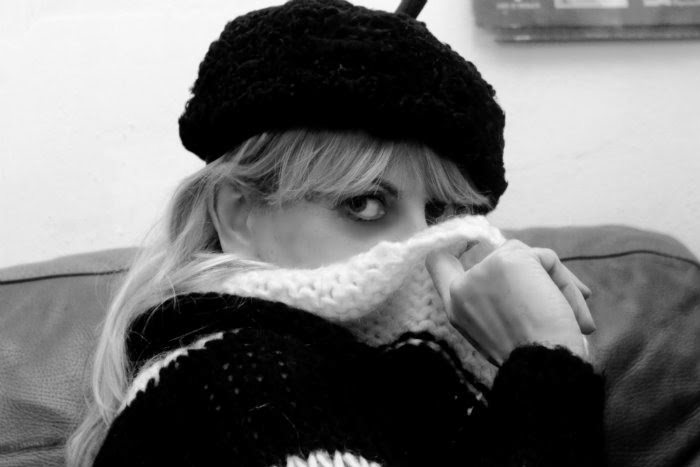 LE TABOU
Un maglione a righe di Twin Set by Simona Barbieri fa subito Esistenzialista
Photography Natalie Novarese
Location Spazio Menomale Via Pepoli 1 Bologna
Make up Letizia Benevelli, Lancome cosmetics
Pfgstyle wears: pullover Twin Set, leggings Calzedonia, shoes Ash, hat Insonnia.
Gianmarco Marabini wears: Jacket D&G, trousers Trussardi, T-shirt La Perla Uomo, shoes Moschino
Mentre aspettiamo che il mondo della cultura sforni dei nuovi Sartre viviamo nei ricordi di ciò che è stato. Di quando i giovani si chiamavano Boris Vian e suonavano la tromba al Tabou o ballavano il

boogie woogie come Jean Louis Barrault e Madeleine Renaud.
Ma c'era anche chi si addormentava alticcio come Giacometti o finiva la serata a casa come l'affascinante Albert Camus. Quando ho indossato il maglione a righe di Twin Set ho immaginato un po' di Saint-Germain-des-Prés, riprendendo quella moda inventata da Juliette Gréco: collo alto, leggings e trucco lunare.
Abbiamo trovato un locale dove si suona jazz, molto simile al Tabou, ho coinvolto Gianmarco e per una sera ho giocato alla protagonista di un libro.
Quale? L
'Almanach de Saint-Germain-des-Prés.
*
While we are waiting for a new Sartre to be born we abandon ourselves to the memories of what have been. We go back in time when a young man named Boris Vian played the trumpet at the Tabou or when people used to dance boogie-woogie as Jean Louis Barrault or Madeleine Renaud. But sometimes it also happened that one or two ended up high like Giacometti or simply stayed home as the charming Albert Camus. As soon as I put my black-and-white-stripes sweater on I visioned myself as Juliette Grecò living in Saint-Germain-des-Près: high neckline, leggings and a lunar make-up. I found a jazz bar very similar to the Tabou and asked Gianmarco to join me for a playful evening in which I played the protagonist of a book. Which one? L'Almanach de Saint-Germain-des-Près.