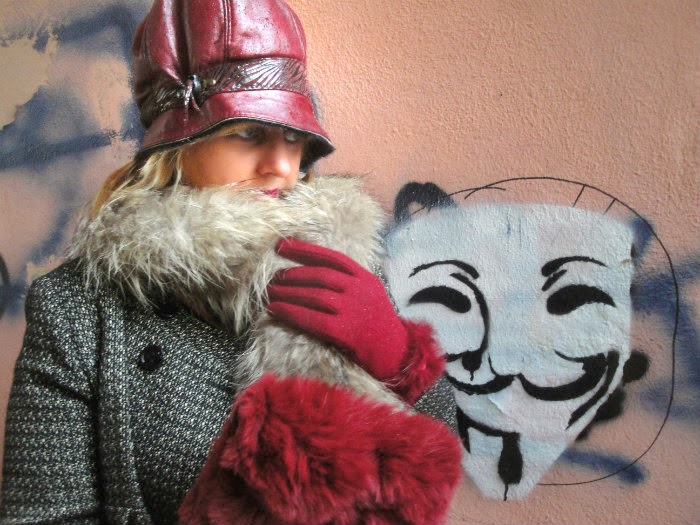 THE LIBERTY
LIBERTY A WAY OF LIFE FOR MODERN ITALY.

Whoever follows me has long been knowing that two of my greatest passions are Art Nouveau and Liberty.

I have a whole section of my library dedicated to this theme, so soon as I could I went to Forli to see the exhibit organized within the Liberty Museum St. Domenico.

It is worth it for many reasons, most of all the amount of material on display that really embraces many topics from fashion (the gorgeous outfits worn by Eleonora Duse, for example, by Mariano Fortuny, Jean Philippe Worth

), jewelery (precious gems or simply glass inspired by nature some signed Lalique and Bulgari ) , painting, furnishings (the door of Luigi Fontana , the iron gate of Aemilia Ars , the vases of Adolfo

de Carolis , The living room of Alberto Issel ).

It takes time and concentration, but we enter into a complete new era the charm .

I went there with comfortable shoes of course, but not without an hat.

This one by Dyem with references to the past, leather and fur trim, fit like a glove.

The white version you saw HERE.

Do you like my red hat ?
LIBERTY UNO STILE DI VITA PER L'ITALIA MODERNA

. Chi mi segue sa da tempo che una delle mie grandi passioni sono il periodo Liberty e l'Art Nuveau. Ho un intero reparto della mia biblioteca dedicato proprio a questo tema, perciò appena ho potuto sono andata a Forlì a vedere la mostra

Liberty

organizzata all'interno dei Musei San Domenico.
Ne è valsa la pena per tante ragioni, più di tutte la quantità di materiale in esposizione che si snoda in percorso didattico abbracciando davvero tanti temi: dalla moda (splendidi gli abiti indossati da Eleonora Duse, per esempio, da Mariano Fortuny a Jean Philippe Worth), alla gioielleria (le gemme preziose o semplicemente di vetro ispirate alla natura alcune firmate Lalique e Bulgari), dalla pittura ( e molti altri) all'arredamento (la porta di Luigi Fontana, il cancello in ferro di Aemilia Ars, i vasi di Adolfo De Carolis, Il salotto di Alberto Issel).
Ci vuole tempo e concentrazione, ma si entra dentro un'epoca vivendone tutto il fascino. Io ci sono andata con scarpe comode ovviamente, ma non senza cappello. Questo di Dyem con rimandi al passato, in pelle e rifiniture di pelliccia, calzava a pennello. La versione bianca l'avete vista QUI.