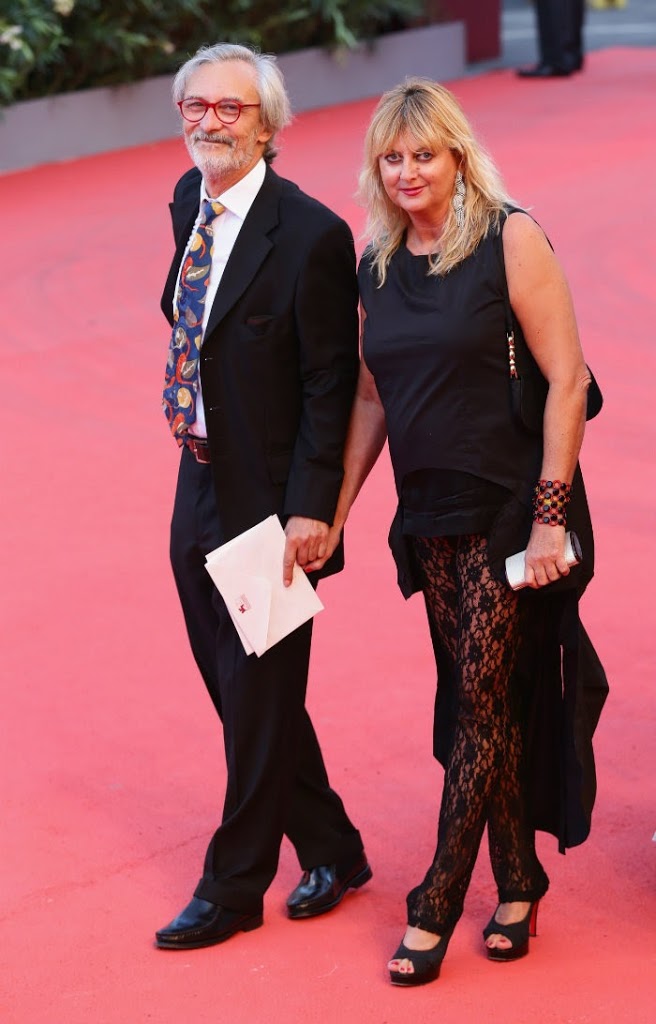 PHOTO BY VITTORIO ZUNINO CELOTTO (GETTY IMAGES)
Capita anche di vederci così, io e il mio compagno, sul red carpet all'inaugurazione del Festival del Cinema di Venezia. Stupitevi soprattutto di lui, giornalista del settimanale L'Espresso, poco incline a party e ricevimenti. Del resto si occupa di temi assai diversi, come inviato di guerra e di politica interna. Una giornata intensa dunque, quella di ieri, fra preparativi e attese cinematografiche. Dopo l'ingresso spettacolare abbiamo assistito alla prima di Gravity, film di Alfonso Cuarón, presenti in sala oltre al regista i protagonisti George Clooney e Sandra Bullock. Una pellicola in 3D da non perdere, forti sensazioni e un'interpretazione della Bullock davvero straordinaria. Sentimenti in mezzo al vuoto e una vita attraversata da detriti i quali, come nello spazio, spaccano e distruggono. Non ci resta che ricomporci, con determinazione e volontà. E qualche buona simulazione, come ci ha mostrato Gravity. E allora tornano comode le parole di Bernardo Bertolucci, presidente della giuria, che in apertura ha detto: "Forse il cinema non cambia il mondo. Ma inventa un mondo. Tutto qua." Dopo il film siamo andati alla cena di gala all'Hotel Excelsior. Eccovi tutte le foto. Buona lettura!
Wearing Silvia Serban / Fibrae bracelet
You can even see me and my fiancee on the red carpet for the opening ceremony of the International Film Festival in Venice. You can be surprised especially considering that he is a journalist for the Espresso magazine and a politica and war correspondant. A different day between the wait and the film proiections. We saw the spectacular Gravity by Alfonso Cuaron with Sandra Bullock and George Clooney. A 3d movie not to miss and an amazing Sandra Bullock in a world were everything is fragmented and you have to put yourself together every time, maybe with technology like in Gravity or relying on the words of Bernardo Bertolucci, in charge of the jury: ' Cinema does not change the world but it invents one.'After the movie we went to the Gala Dinner hosted at the Htel Excelsior. Here all the photos, enjoy!